Dazzle™ 2
IIoT Automated Sump Concentration and Level Management
What is the Dazzle™ 2 System?
Zebra Skimmers has been providing coolant maintenance solutions and products for over 28 years. Leveraging our decades of experience with CNC sumps, the Dazzle™ 2 was developed, designed and engineered in-house.
It is our proven, patented, industry 4.0 fully automated sump concentration and level management system that maintains both sump levels and coolant concentrations within your preset limits.
Dazzle™ 2 utilizes a precision mixing algorithm that automatically mixes neat coolant and water to the precise target make-up concentration for each machine sump.
Set concentration, set sump high and low levels: Done. Dazzle™ 2 does all the work for you.
Imagine your sumps locked on the perfect concentration and level throughout the day, every day, and needing no manual intervention!
Low on coolant? The Dazzle™ 2 even sends an order alert email to you and your vendor so your coolant never runs dry.
Fast ROI
Coolant savings up to 80%, CNC tooling savings up to 85%
Dazzle™ 2 is Zebra Skimmers patented latest offering for automating coolant concentration mixture and delivery in one system. The system saves high volume CNC manufacturing facilities anywhere from 50% to 85% on their coolant costs with an 8-month ROI. This data is based on actual customer feedback.
industry 4.0 unleashed
Online dashboard to view and manage sump concentrations and levels from anywhere, on the screen, using our intuitive web interface.
manage multiple sumps
The system allows for managing of coolant concentrations and fluid levels up to 24 sumps per cell. Add as many groupings as your shop requires to enhance your productivity.
MEASURING COOLANT CONCENTRATION
Uses an inprocess refractometer to continuosly monitor the coolant concentration in sumps under management, while optimally mixing water and coolaant to bring individual sumps to target concentration.
LEVEL SENSING
Dazzle's level sensing capabilities are based on robust capacitive technology which is not affected by a sump's surface foam or particles in the fluid, unlike floats or other mechanical devices.
DATA COLLECTION AND ANALYSIS
Monitor the system using our web interface. Collect data and analyze the system performance across several key metrics.
How Does It Work?
Follow this simple guide to savings
Step 1
Fill out the form below to schedule a Discovery Call.
Step 2
Zebra professionals will do a site visit to personally work with you on the set-up.
Step 3
We build to your specifications while plumbers set coolant lines.
Step 4
Our staff visits for final calibrations and assist with any questions you may have.
Top Reasons to Install the Dazzle™ 2
Dazzle™ 2 is flexible and configurable to manage your changing needs in a high volume manufacturing environment.
Our patented system includes a self-cleaning process refractometer. However, the Dazzle™ software is configured to cover special situations where the mandate is for operators to manually enter sump concentration readings (no refractometer is included in these cases – but can be added at a later time).
The system can even be customized to match the colors/branding on your shop floor!
The Dazzle™ 2 has your specific coolant process automation needs covered along with best in class support.
Manage Multiple Sumps
The system allows for managing multiple coolant concentrations and fluid levels of 24 sumps per cell. Add as many groupings as your shop requires.
Measuring coolant concentration
Coolant concentration set to automatically fill and level your fluids to pre-determined levels.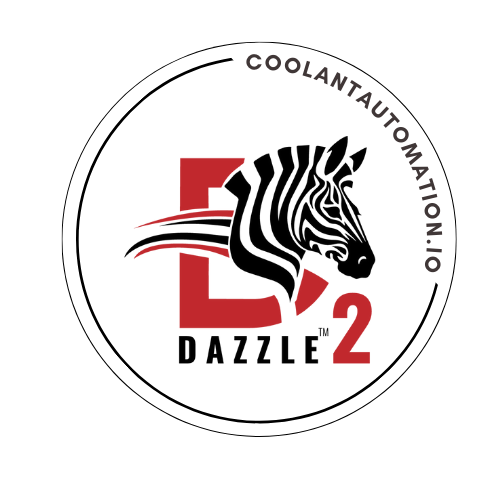 Data collection and analysis
Monitor your sumps 24/7 from your computer, phone or tablet.
level sensing
Automation of coolant levels takes out the manual tasks of filling machines.
Schedule a Discovery Call
Start your 30 day trial
Like what you have seen? Let's get started!
Just fill in a few details and we will get in touch as soon as possible.
"What doesn't get measured doesn't get managed."